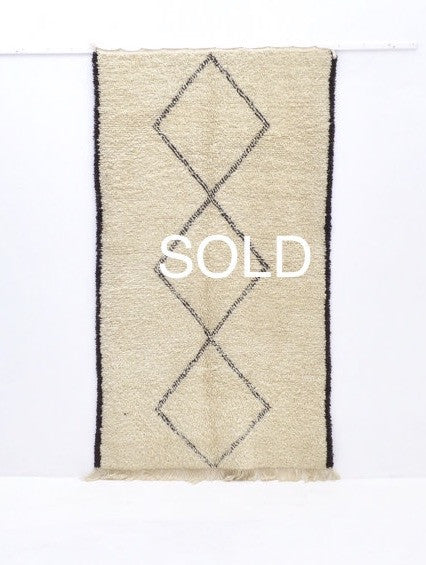 MOROCCAN VINTAGE BENI OURAIN RUG

BENI OURAIN Rugs are Handwoven from pure undyed Wool by women in the villages of the Middle Atlas Mountain Region in Morocco many still raise sheep on the high elevations where the sheep produce excellent Wool of the highest grade which is woven into Beautiful BENI
OURAIN Rugs



TRADITIONS
Women weave the rugs, each weaver determines the design texture colours and pattern adding their own personal experiences into the creation, life events birth love marriage family nature a story of the weavers life and ancient Berber traditions. Each rug is unique so therefore no two are alike each can take years to make


.
AGE
Many BENI OURAIN rugs are mid twentieth century the vintage ones being more difficult to uncover and costs are in the higher end bracket and considerably more than the new or commercial ones produced today of which some may not be authentic Moroccan rugs.



AUTHENTICITY
The older the more softer and supple the texture also design of patterns more interesting displaying the weavers skill. traditionally BENI OURAIN were never produced wider than 7 ft..



HUE
Cream White field characterized by geometric patterns consisting of geometric Black or Brown lines that create diamond and abstract shapes often asymmetrical.This Vintage Rug is
100% Natural un-dyed Wool in Ivory/ Beige Cream with Beautiful Charcoal Diamonds.



TEXTURE
Double Knot Rich fluffy pile


VINTAGE

30 years
Excellent condition


SIZE
1.33 m x 2.30 meters
4.4 x 7 FT. 6 inches


CUSTOM SIZES
If you require a specific design or size of vintage BENI OURAIN rugs ( beware of newly produced rugs sold as vintage) please inquire as we are constantly sourcing inspirational unique pieces
in Morocco.



BOUTIQUEMAROC
We can find and offer our clients the perfect rug to meet their requirements and expectations. We have a large stock of carpets on the ground in Morocco. Forward an image to us of a rug you like and we can find you a similar piece as each rug is unique in its design.



SHIPPING
This item is shipped from Morocco by secure fast couriers.Processing of order within 1 - 3 days.We will issue you a tracking number upon request once your order has been dispatched.