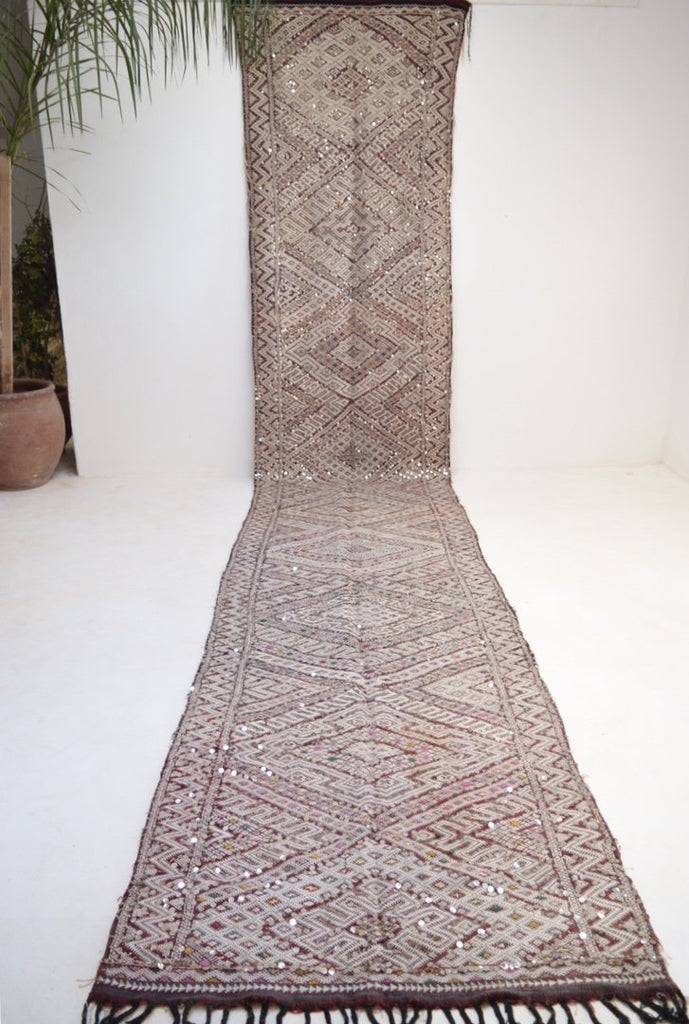 Beautiful old large Moroccan kilim Berber rug hand-woven by Berber woman. KM603
Flat weave Berber rug demonstrating traditional hand weaving. An intricate geometric design showcasing the weavers skill and attention to detail using beautiful embroidery techniques in organic hues from plants and minerals. Highlighted and embellish with hand stitched sequins ( Muzona ) creating lots of sparkle. Traditional knotting creates padding underneath the rug, a stunning piece to add a touch of Bohemian glamour to your interior design.
S I Z E : 18 ft 10 x 3 ft 9 in / 574 cm x 114 cm. Tassel length 3-4 Inches.
M A T E R I A L : Wool
W E A V E : Flat weave
A G E : Vintage Old
T Y P E : Kilim rug
C O L O U R S : Deep Purple Reds
O R I G I N : Morocco
*NOTE* A small patch of rust to the rug. All adds to the charm and enhances the character of handmade pieces.
I N F O 
Boutiquemaroc's products are handmade and woven by Berber artisans using age old traditional techniques and methods. Our artisans are experts in their field with each product being a unique item showing perfection of non perfection.
 As with all handmade products there may be signs of slight imperfections such as loose threads, wear, fading or minor size irregularities. All these characteristics are part of the history and creation of the product by artisans every weaving tells a story that is rich in tradition.