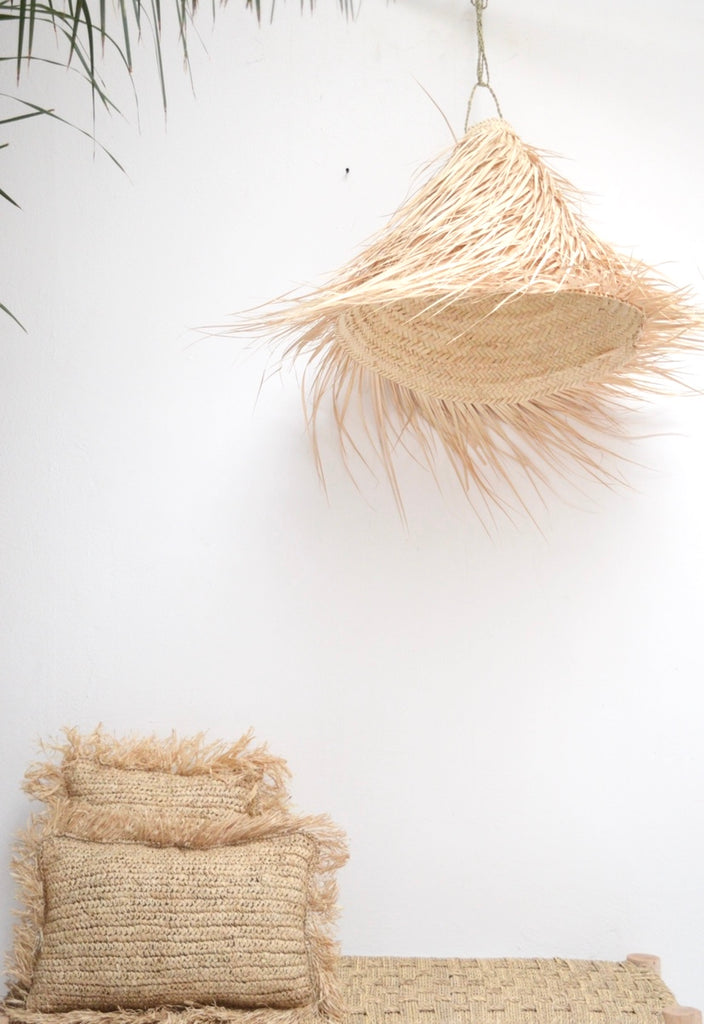 Moroccan Hand-woven Natural Raffia palm Hairy Conical Lampshade Pendant Light.
Natural Raffia palm hairy hanging cone lightshade pendant.

These trendy large hairy Raffia palm lightshades are skilfully hand-made and woven by our Moroccan artisans. Braided and woven lamps in contemporary style with trailing Rattan fringe.
Woven pattern hairy all over fringing with a braided hanging loop. Use with low wattage lighting indoors or on the patio for that soft magical glow.

Highly sought-after contemporary lights loved by interior designers and style magazines are fast becoming a must have item for your interior and exterior space. 
Place these natural light shades in living areas and kitchen or simply in your favourite nook to add a touch of bohemian style. These work well in organic contemporary and Scandinavia style settings. Group together to create a striking focal point in your restaurant or for the sheer wow factor on a roof terrace.These stunning Moroccan lights are the latest trend in outdoor ambience lighting Ideal for restaurants, bistro cafes and rooftop galleries.

Pendants available in Natural 
M A T E R I A L  Raffia 

C O L O U R Natural

S I Z E
8 cm Diameter Top
56 cm Diameter Base
50 cm Height 
Plus 30 -40 cm Fringe length
F I N I S H  Contemporary cascading hairy grass all over fringe
O R I G I N Made in Morocco 
C A R E. Not for use in the elements 

Shipped by safe secure couriers direct from Morocco with guaranteed delivery. Since these items are handmade please allow for the processing of your order 1 week unless items are in stock ready for dispatch in 1-3 days.