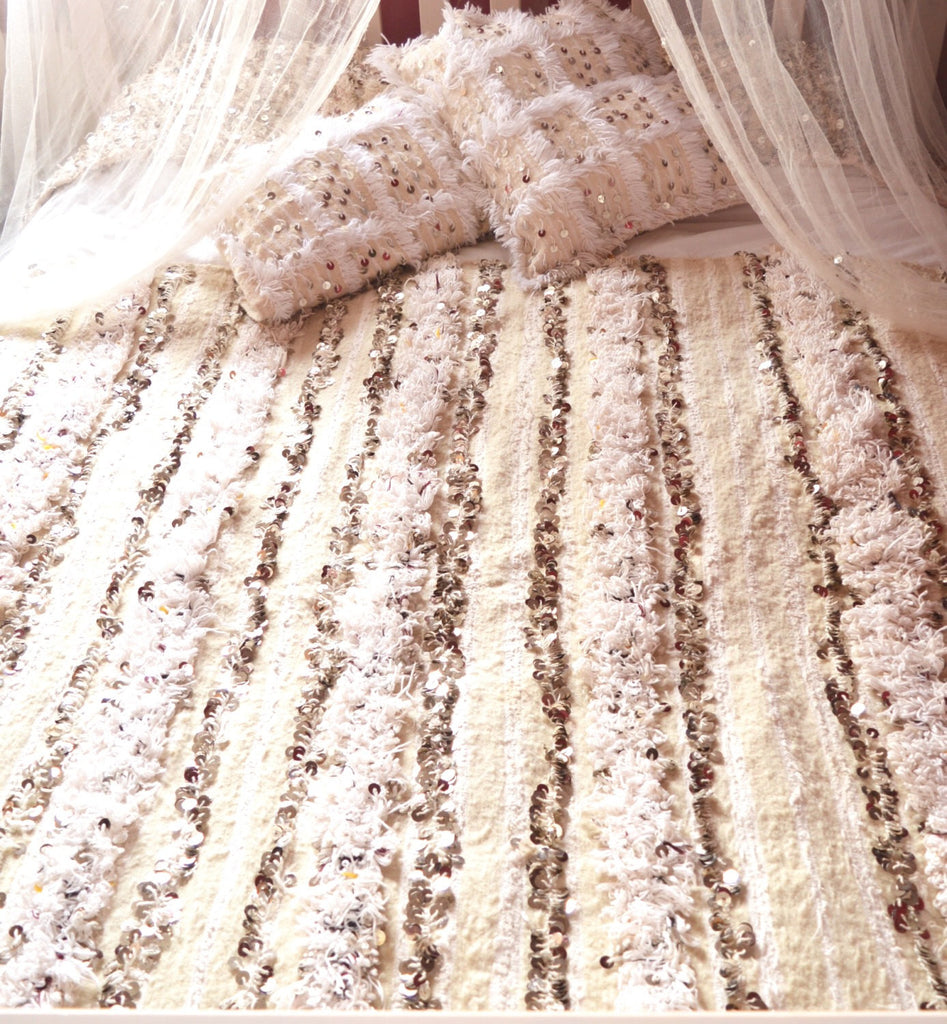 Moroccan Vintage Wedding Blanket Handira with Cape Ties H795
Traditionally hand made by Berber women in their homes in Atlas Mountain Region of Morocco 
This is a Vintage Piece traditionally hand made by Berber women in their homes in Atlas Mountain Region of Morocco A gift Bestowed to a Bride on her Wedding Day.
Beautiful Neutral off White and Cream tones Wedding blanket made from Cotton accentuated Fluffy Bands of Texture. Patterns enlivened with rows of Mirror Sequins (Muzona) which take many hours even week to attach once the weaving is complete.
Stunning embroidered Kilim bands in Bkack Yellow Red and Burgundy on reverse displays the weavers skill, crraftmanship and attention to detail.Completed fringe of twisted individual delicate knotted strands of Wool on each end very Beautiful.
Handira blankets are made with love and thought to be a blessing to bestow good luck and fortune to the newlywed. Hand crafted for the Bride on her Wedding day used as a Cape or Blanket
SIZE (excluding tassels) Traditional unique variation in sizing with One end slightly increased in width by 1 inch.
4 FT 7" x 7 FT 
122 CM x 214 CM
SHIPPING
*Please Note*
This item is shipped direct from UK by secure fast couriers.Processing of order within 1-3 days We will provide a tracking number upon request once your order has been dispatched.Delivery time frame 1-2 days depending on location and customs.