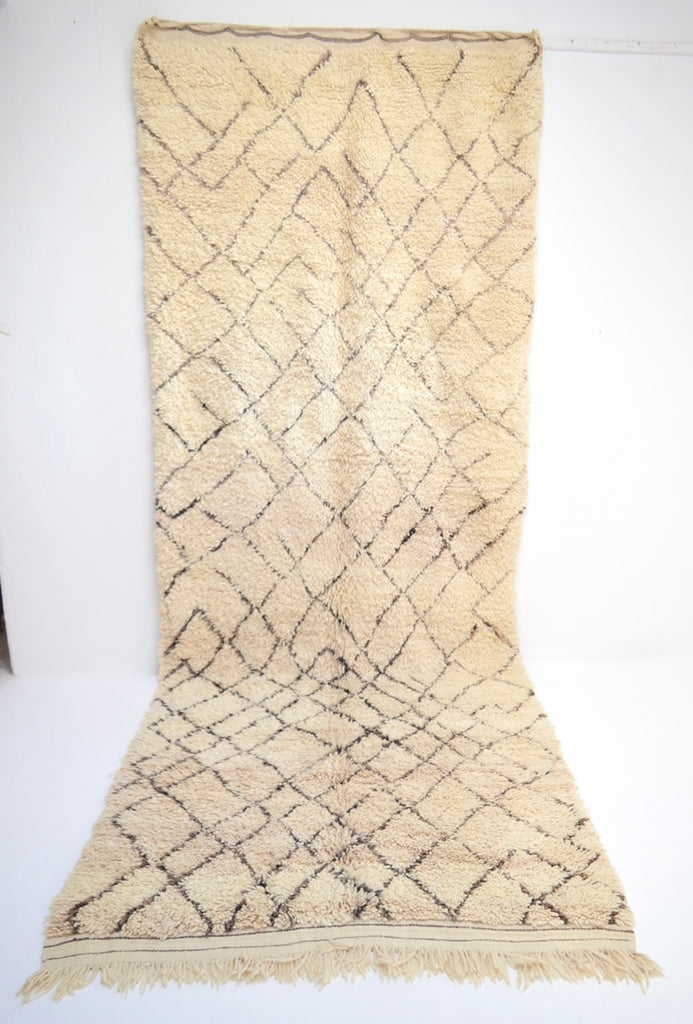 VINTAGE BENI OURAIN RUG BQ1884

Vintage BENI OURAIN 12'9" x 4'10" <> Moroccan Rug Diamond Lozenge Tasseled Mid Century Contemporary Modern Rug.

Pure Wool rug, a traditional Berber rug handpicked in the Atlas Mountain Region.
Hand woven by women from the Beni Ourain tribes from Morocco.Minimalist
contemporary rugs thick luscious pile,sumptuous and warm underfoot.


Material <> Pure Wool
Field <> Organic Cream Charcoal Chocolate Brown Lozenge Tradiional Single
Trim <> BerberTasseled Fringe
Weave <> Berber Double Knot
Texture <> Rich pile
Age <> Vintage 45 Yrs
Size <> Approximately 150 X 390 cm /
4'10" X 12'9"(excluding tassels)
Origin <> Made in Morocco



R U G  A F T E R C A R E
We also recommend that a rug pad be used underneath your rug this Contributes to the following
1<>  Adds longevity of the rug.
2<> Protects the weave.
3<> Prevents movement. 
4<> Protects the underside from any soiling.
Regulary vacumn depending on traffic use (using a canister type) using a side to side motion to minimise any disturbance of the delicate fibres. Professional cleaning is recommended although if spillage occurs spot clean immediately using a plentiful supply of water only blot and work from the outside edge into the centre of spill. Test a small corner prior to this for colour run and seek professional advice from a specialist.
Rotate your rug occasionally throughout the year to even out traffic wear. Rugs are beautiful on the reverse side to and can be used in the summer months in this position giving your space a lighter feel.