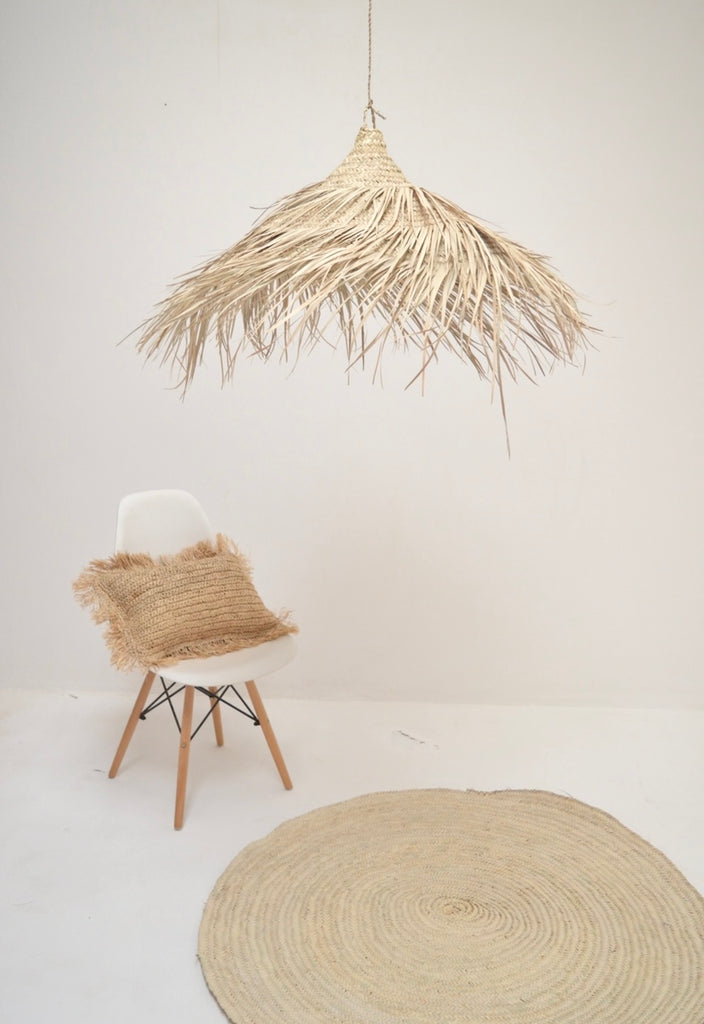 Moroccan Rattan Palm Light-shade
Natural Rattan hanging Conical Woven Lightshade pendant.

These trendy Raffia lightshades are handmade by our Moroccan artisans. Braided and woven lamps in contemporary style with trailing Rattan fringe.
Woven pattern with 3 tier fringe and braided hanging loop non frame structure. Use with low wattage lighting indoors or on the patio for that soft magical glow.

Highly sought-after contemporary lights by interior designers and style magazines are fast becoming a must have item for your interior and exterior space. 
Place this light shades in living areas and kitchen or simply in your favourite nook to add some bohemian style. Group together to create a striking focal point in your restaurant or for the sheer wow factor on a roof terrace. These stunning Moroccan lights are the latest trend in outdoor ambience lightening Ideal for Restaurants, bistro cafes and rooftop galleries.
MATERIAL Rattan Palm 3 tiers

COLOUR Natural

DIMENSIONS 
42 cm Diameter Base

41 cm Height 
30 cm Fringe length
FINISH Contemporary cascading grass fringe
ORIGIN  Made in Morocco 
CARE : Not suitable for use in the elements. 

Shipped by safe secure couriers direct from Morocco with guaranteed delivery. Since these items are handmade please allow for the processing of your order 1 week unless items are in stock ready for dispatch in 1-3 days.