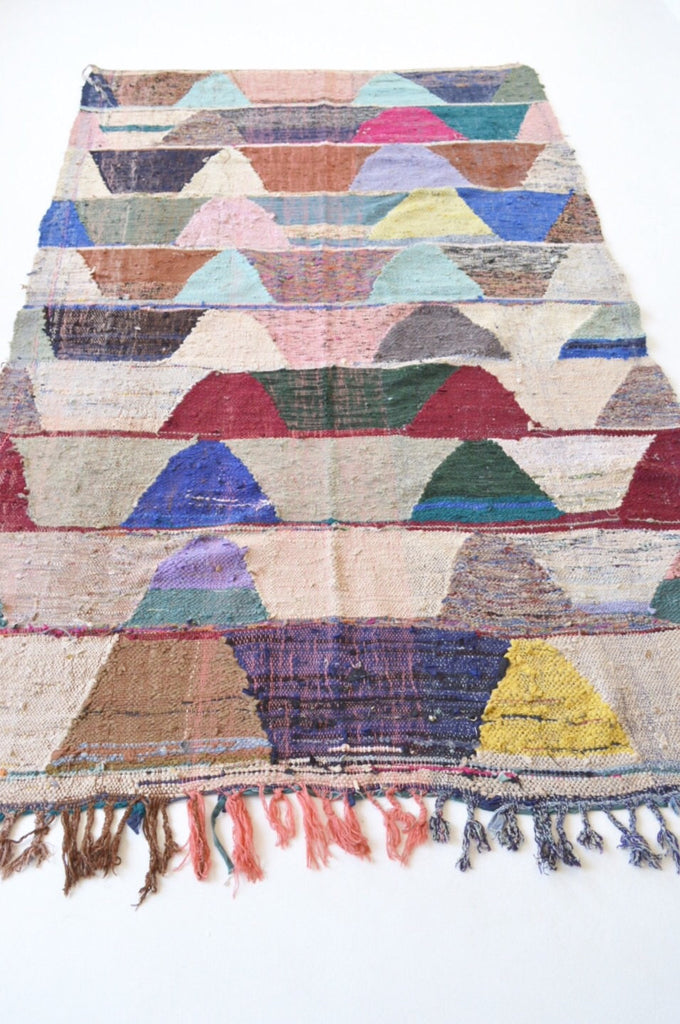 <> VINTAGE MOROCCAN HANBAL BOUCHEROUITE RUG


BOUCHEROUITE

Beautiful Moroccan Boucherouite Rug handmade by women in their homes in the Atlas Mountain region of Morocco. Each rug is individually made over a period of months creating a unique one of design.Stunning colours and design every pattern has a different meaning symbolising traditions,luck and happiness.


HANBAL

Hanbal/Hambel are handwoven flat weave rugs lighter,softer,a larger blanket type rug and less thicker than than traditional rugs.The word Hanbal in Morocco refers to the weaving method used.These stunning rugs can measure up to 12 foot and were used as bedding and relaxing,or to decorate the tent.
.


TRADITIONS

Boucherouite Rugs are traditionally made from textured pile using strips of fabric,Cotton and Wool. Handmade with fabric strips to create Texture and a Beautiful soft pile to this piece finished with a knotted fringe.
One off Artistically designed Rug to complete a contemporary look to any space, create a highly decorative feature when wall hung or as a Luxurious floor covering.

Colours - Multi Tones
Texture- Low Pile
Age <> Vintage
Size <> 162 x 2 m 63 cm / 5"3 x 8FT 7 in

SHIPPING

This item is shipped from Morocco by secure fast couriers.Processing of order within 1 - 3 days.We will provide a tracking number upon request once your order has been dispatched.