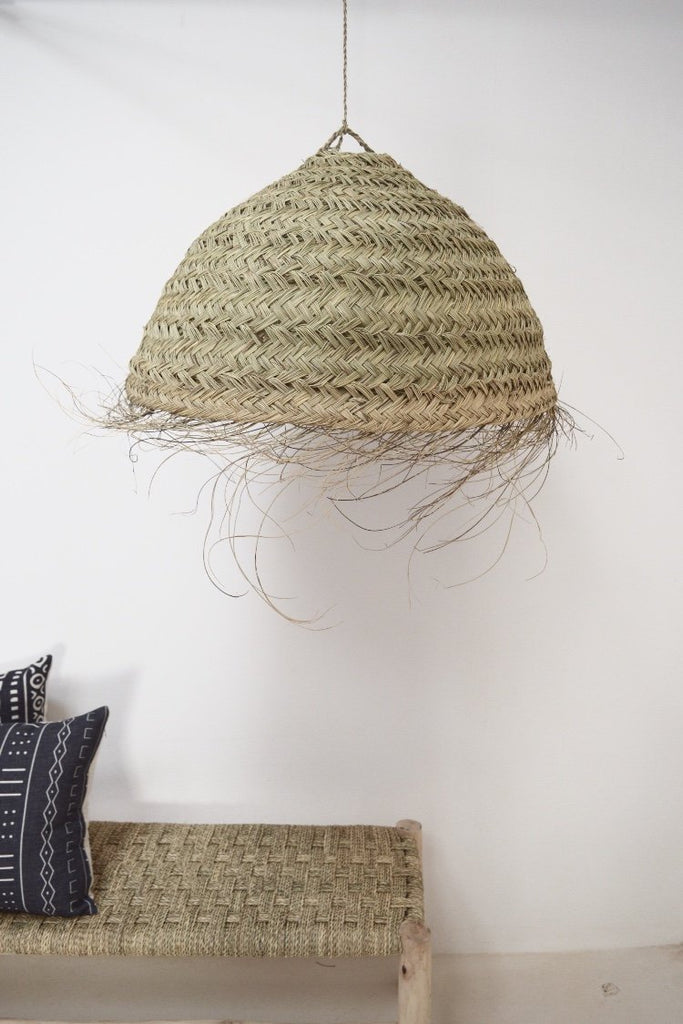 Moroccan Natural Rattan Raffia Wicker Bamboo Lampshade Hand-woven Pendant Light
Natural Rattan hanging Cone lightshade pendant.

These trendy Rattan lightshades are handmade by our Moroccan artisans. Braided and woven lamps in contemporary style with trailing Rattan fringe.
Woven pattern on a metal frame structure with bulb holder also includes hanging loop should you wish to suspend the light to string fairy lights. Use with low wattage lighting indoors , ideal for high ceiling areas, hallways and mezzanine for dinner parties on terraces or patios for that soft magical glow. These contemporary light shades are fast becoming highly sought after by the interior designers, interior style magazines and cafe culture.
Group these rattan light shades in large numbers to create a striking focal point and beautiful ambience lighting in your restaurant or for the sheer wow factor on a roof terrace with bulb or string lighting Ideal for restaurants, bistro cafes and rooftop galleries.

Pendant available in Natural 

M A TE R I AL
Rattan Raffia
C O L O U R
Natural
D I M E N S I O N S
70 cm Diameter 
50 cm Height 
14 cm Top
F I N I S H
Contemporary 
O R IG I N
Made in Morocco 

Shipped by safe secure couriers direct from Morocco with guaranteed delivery. Since these items are handmade please allow for the processing of your order up to 3-7 Days if items not in stock.