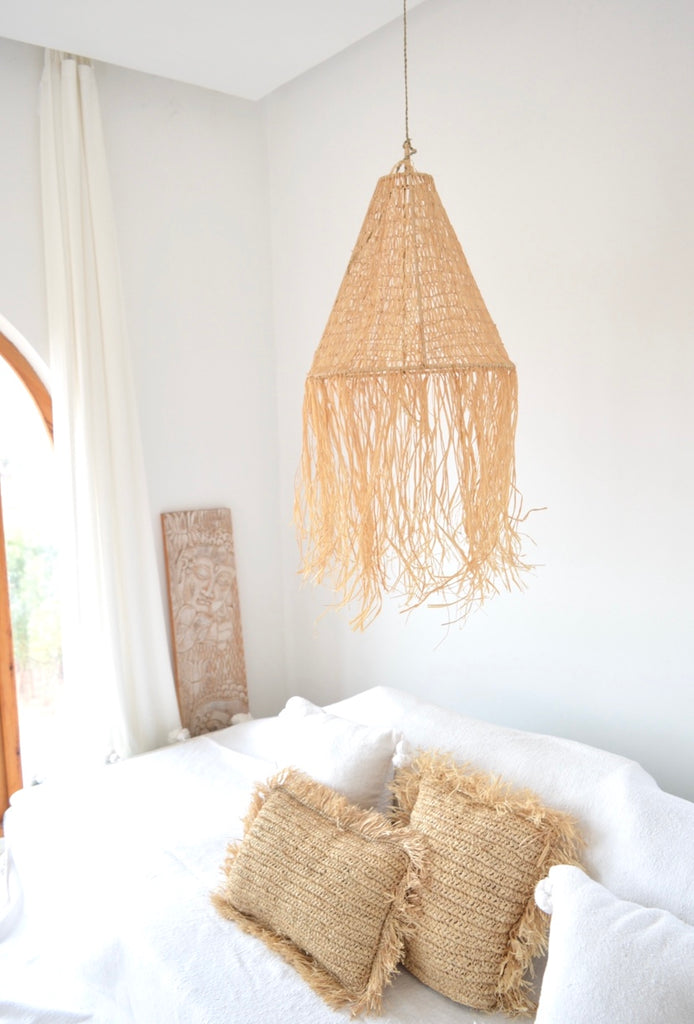 Beldi Moroccan Raffia Pendant Light Crochet Rattan Woven Light 


These contemporary Crocheted Raffia Rattan lamps are handmade by our Moroccan artisans. Hand woven in a beautiful crocheted style in cone shape with Raffia frills these lightshades will be a focal point and create boho style in any contemporary interior. Highly sought after by today's Interior designers and interior style magazines.
Woven crocheted pattern on a metal structure frame. Use for indoor lighting or string/fairy lights on the patio for that soft magical glow

 Pendant available in Natural Crocheted Raffia. Pendant includes a Metal hook to suspend from ceiling. Perfect indoors create a bohemian vibe or organic look to your interior. These stunning Moroccan lights are the latest trend in outdoor lightening for bistros, cafes and roof terraces.

M A T E R I A L
Raffia and Metal 
C O L O U R
Natural

D I M E N S I O N S
Size 40 cm Wide x 48 cm Height
F R I N G E  Size of fringe at base of lampshade adds extra length to the height stated by 40-45 cm

F I N I S H
Contemporary 

O R I G I N
Made in Morocco

Shipped by safe secure couriers direct from Morocco with guaranteed delivery. Please allow for the processing of your order 1-3 Days.