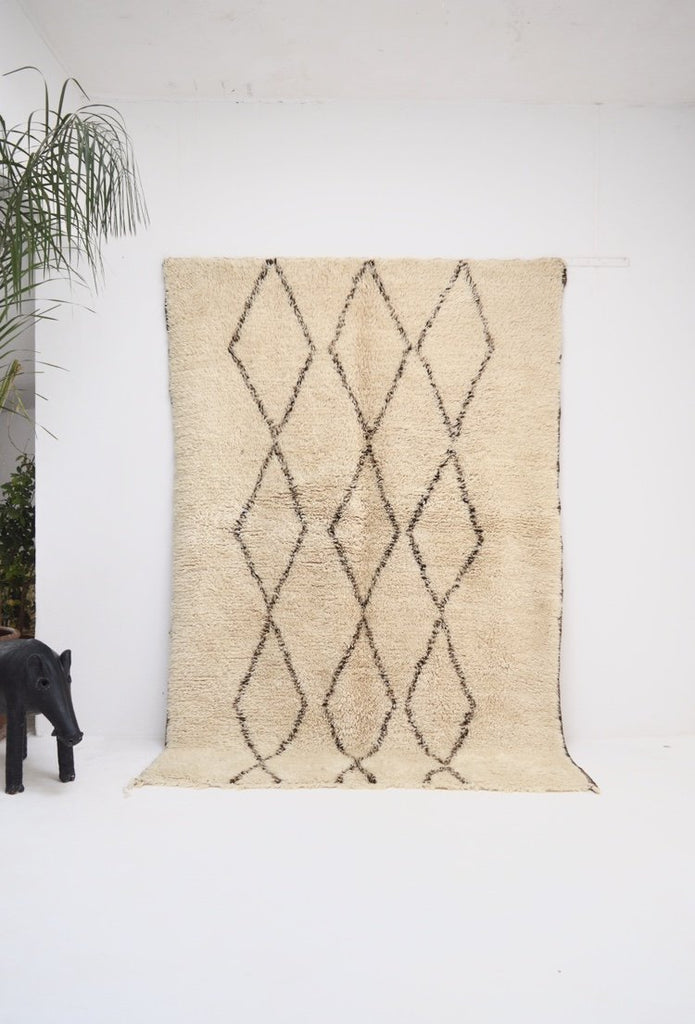 V I N T A G E  B E N I  O U R A I N  R U G BQ1888
VIntage BENI OURAIN 9'6" x 6'6" <> Moroccan Rug Lozenge Trio Tassel Fringe Mid Century Modern Rug.


Pure Wool rug, a traditional Berber rug handpicked in the Atlas Mountain Region. Minimalist contemporary rugs thick luscious pile, sumptuous and warm underfoot.



Material <> Handwoven from Pure Wool
Field <> Cream, Charcoal.Dark Medium Brown, Medium Brown Accent
Texture <> Rich Pile
Age <> Vintage 40 Years
Size <>  6'6" x 9'6" // 198 x 290 cm (excluding tassel fringe )
Origin <> Made in Morocco




Please note the following information is for your interest.


All rugs are cleaned prior to shipping. Any restoration work is completed free of charge by our dedicated weavers in Marrakech.

Please allow for the processing of your order within 1-2 Days. Your tracking number shall be provided upon request once your order has been dispatched.
Items are shipped direct from Morocco by secure fast couriers with guaranteed delivery.Delivery time 3 - 5 days depending on location and customs. 
A wonderful free trade agreement exists between the US and Morocco allowing exemption from custom charges. 
We also recommend that a rug pad be used underneath your rug this aids the longevity of the rug, protects the weave, prevents movement and protects the underside from any soiling. Rugs are beautiful on the reverse side too and can be used in the summer months in this position giving your space a lighter feel.